#TBT: Best Gilmore Girls Moments
Gilmore Girls may have ended nine years ago (#WeAreOld), but enthusiasm for the show has only grown in recent years. That enthusiasm exploded when Netflix announced it would be reviving the beloved show later this year (filming is happening as I type!). What's more exciting: Amy Sherman-Palladino and Dan Palladino, the creators who controversially left the show before its seventh and final season, have gotten on board with the Netflix revival. The revival will appear as four 90-minute episodes (à la Sherlock), with each episode being set in one of the four seasons. Additionally, the vast majority of the original cast will be returning… along with some bonuses like Broadway talent and Younger star Sutton Foster, who worked with Sherman-Palladino on the criminally short-lived Bunheads. In anticipation of the revival, we're throwing it back to some of our favorite Gilmore Girls moments, character by character.
Lorelai
Lorelai (Lauren Graham), our favorite fast-talker, has had so many hilarious, empowering, and sweet moments over the course of the show's seven seasons. But her best moment came in the form of tough love: during "Raincoats and Recipes" (episode 4.22), she calls out Rory for being the "other woman" in her affair with then-married (and eternally dull) Dean. It is a shocking burn, but not undeserved. Lorelai's relationship with Rory is the heart of the show– it isn't called Gilmore Girls for nothing!– and that means that mother and daughter don't just uplift each other whenever they need it; they also challenge each other to be better people.
Rory
Rory (Alexis Bledel) is nothing if not a creature of plans, sensibility, and thoughtfulness. That's why her decision to leap off scaffolding ("You Jump, I Jump, Jack", episode 6.13) with nothing but an umbrella and a Huntzberger (Matt Czuchry) at her side was a welcome surprise. Though Rory is "in omnia paratus" in the academic sense, it was a relief to see her round out as a person whenever she made unexpected decisions.
Emily
Emily Gilmore is arguably the best character on the show– her character is deliciously sharp and she is played to perfection by our queen, Kelly Bishop. Though she has had soooo many amazing moments/lines/looks/coups, the moment that stands out for Emily Gilmore comes in episode 6.5, "We've Got Magic To Do." In it, she corners Shira Huntzberger– Logan's mother who was rude to Rory at a recent dinner– and cuts her down to size in spectacular fashion, all the while maintaining a perfect DAR smile. We love it when Emily's claws come out– especially when her claws come out to protect and defend family.
Richard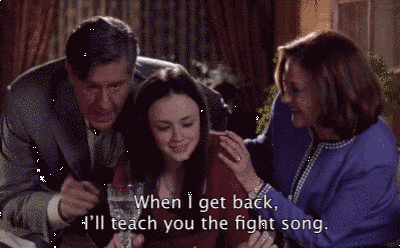 Richard (Edward Herrmann) and Rory have a special bond that draws in the audience right away. But he shines brightly when he takes Rory to Yale ("Let the Games Begin," episode 3.8) in a bid to convince her to enroll at his alma mater– watching him dash around his old stomping grounds was a treat.
Luke
Oh, Luke (Scott Patterson). He is one of the constant joys on the show, just as he is a constant in Lorelai's life. But the best Luke moment came in episode 5.3 ("Written in the Stars") when, while on their first date, he confesses to Lorelai that he is "all in." Swoon.
Sookie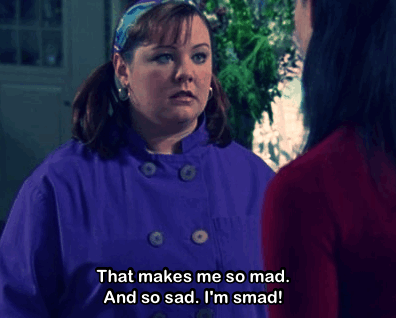 Sookie (Melissa McCarthy) was always there for Lorelai… usually with a pan of delicious food. Her best moment came in episode 1.4 ("The Deer Hunters"), when a food critic deems her magic risotto "perfectly fine." For a perfectionist like Sookie (I feel you, girl), "perfectly fine" is a maddeningly inadequate description for the world's best risotto. So Sookie naturally obsesses over it and takes it upon herself to convince the critic otherwise.
Dean
Ah, unimaginative, simple Dean. His best moment comes when he breaks up with Rory for the last time ("To Live and Let Diorama," episode 5.18). FINALLY. Peace out, Dean (Jared Padalecki)! Note: He will be back in the Netflix revival. Groan. Don't make any stupid mistakes, Rory. 
Logan
Similarly, cheers for when Logan and Rory end things ("Unto the Breach," episode 7.21). Sorry, y'all– Logan was pretentious and just wasn't right for Rory.
Jess
Haters gonna hate, but Jess (Milo Ventimiglia) was the best of Rory's boyfriends, even if his complicated life got in the way of their relationship. I mean, the boy wrote a book and then told Rory, "I couldn't have done it without you." But Jess's best moment is from that same episode ("Let Me Hear Your Balalaikas Ringing Out," episode 6.8). While visiting Rory, he questions the direction her life has taken– she's dropped out of Yale and is dating a grade-A tool (that would be Logan). "What's going on with you?" he demands. "This isn't you, Rory. You know it isn't." Why is Jess perfect for Rory? Because, like Lorelai, he knows a little tough love is necessary every now and then– and he reminds Rory that it's okay to be herself.
Netflix has promised us new Gilmore Girls episodes by Christmas 2016, and we can't hope for a better gift than that. Long live the Gilmore girls!
Photo Credit: Photofest