Man Crush Monday: Eddie Redmayne
The Wizarding World just got a little more fantastic on Friday with the arrival of a brand new member: Eddie Redmayne as Newt Scamander in Fantastic Beasts and Where to Find Them. The newest installment in the Harry Potter universe, the film follows a British Magizoologist in New York City in the 1920s. Redmayne's performance as Scamander proves what we've long known: that he is a brilliant actor who effortlessly humanizes his varied characters.
He has, at various times in his rich career, portrayed a lovesick revolutionary, a transgender artist, a brilliant astro-physicist, a medieval artist, and an aspiring filmmaker. This doesn't even take into account his accomplished stage work, both in New York City and London. Put simply, Eddie Redmayne is one of the most gifted actors of his generation– he's won an Oscar, after all. So, we dedicate this #MCM this week to our favorite newest wizard.
He does magic in real life… with the help of Benedict Cumberbatch and Bryan Cranston
Just watch. You're welcome.
Go ahead: watch it again. This is a no-judgement zone.
He is your fantasy Brit
Eddie Redmayne doesn't just have the perfect accent; he's also got posh credentials to make even the casual Anglophile take notice. Educated at Eton College– one of the most elite schools in Britain– Redmayne was classmates with none other than Prince William. (This picture will blow your mind, and this will make you squee.) He also graduated from one of the best colleges in the University of Cambridge with a degree in Art History. Most recently, Redmayne was awarded the Order of the British Empire by the Queen herself. Frankly, you can't get more British than that.
He is insightful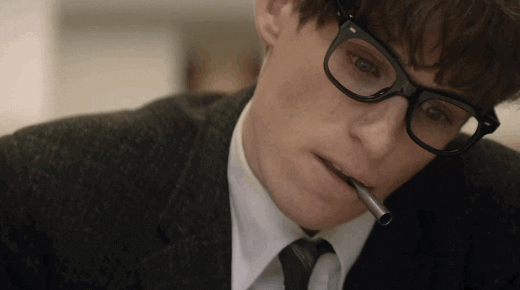 Despite Redmayne's obvious intelligence, he has admitted that he has felt intimidated at times– especially when he was playing Stephen Hawking, one of the most brilliant minds of all time:
There was a hilarious moment where I had fear for a good few months about playing someone as intelligent as that and I had a few sleepless nights about it. Then I had this epiphany: I was lucky enough to go to Cambridge and while I was there, the really bright people I met, the seriously bright people, never felt the need to demonstrate their intelligence. So I woke up all sprightly and thought […] if I just pretend I'm really confident in my own intellect, then everything will be absolutely fine. Appear confident in yourself and then maybe people will think you're bright.
Words of wisdom for many situations. He consistently demonstrates an interest and enthusiasm in the people and world around him. Eddie Redmayne even turned the tables on Jennifer Lawrence. Though she was supposed to be interviewing him for Interview magazine, he ended up asking her many questions of his own.
But he's compassionate, too
Like so many actors and actresses in his generation, Redmayne uses his status to shine light on various issues. To that end, he serves as a U.K. Film Charity Ambassador and works with the Teenage Cancer Trust. He also takes up causes related to his films, as he has spoken out about Motor Neuron Disease and LGBTQ+ issues, as well. Most recently, he's leant his support to Lumos, founded by J.K. Rowling. Indeed, Redmayne is a proud Hufflepuff, and even released an adorable PSA that celebrates the compassion and thoughtfulness that defines the most underrated Hogwarts house.
What's next for Redmayne? He's lending his voice to StudioCanal's animated Early Man, due out in 2018.
Photo Credit: Warner Bros.